575. Sendung am 30.12.20 (Wdh. 03.01.21 und 04.01.21) Moderation: Klaus Kipfmüller und Sidekick M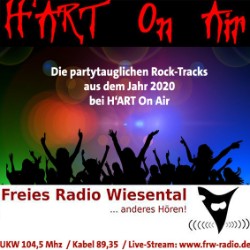 "Mit Rock 'N' Roll ins neue Jahre"
Die partytauglichen Rock-Tracks aus dem Jahr 2020
Playlist:
JORN "Quinn The Eskimo (The Mighty Quinn)" Manfred Mann Cover / PASSION "We Do What We Want" / BIFF BYFORD "School Of Hard Knocks" / FIVE FINGER DEATH PUNCH "To Be Alone" / PUTA VOLCANO "Entropica" / AMBUSH "Heart Of Stone" / MONKS ROAD SOCIAL "If I Could Pray Mrs" feat Peter Capaldi / ENTER SHIKARI "Crossing The Rubicon" / THE REHATS "City Lights" / RAMMELHOF "Warum" / ROMUVOS "Skuodas" / VEGA "Man On A Mission" / MASSIVE WAGONS "House Of Noise" / KAISER FRANZ JOSEF "Cactus" / CORRY MARKS "Drive" / MAD MAX "Busted" / ACE FREHLEY "Lola" / COLD YEARS "Northern Blue" / BLACK STONE CHERRY "Don't Bring Me Down" Elo-Cover / THE / BOUNCING SOULS "Simple Main" / THE DITY KNOBS "Pistol Packin' Mama" / SODOM "Occult Perpetrator" / PALACE "Eleonora" / UNRULY CHILD "Talked You Out Of Loving Me"
---
574. Sendung am 23.12.20 (Wdh. 27.12.20 und 28.12.20) Moderation: Klaus Kipfmüller und Sidekick M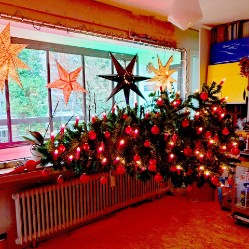 "Besinnliches bei H'ART On Air"
Die besten Rockballaden aus dem Jahr 2020
Playlist:
REVOLUTION SAINTS "Eyes Of A Child" / BLIND EGO "Dark Paradise" / ARCHON ANGEL "Bought To The Edge" / FIVE FINGER DEATH PUNCH "Darkness Settles In" / KHYMERA "Father To Son" / VOODOO SIX "Never Beyond Repair" / LUCID DREAM "Golden Silence" / KING DUDE "My Rose By The Sea (Satyr Boy)" / DEVILSKIN "Eyes Red Heavy" / DENNIS DEYOUNG "To The Good Old Days" / FM "Ghosts Of You And I" / HOUSE OF LORDS "Perfectly (You And I)" / SHINING BLACK ft. BOALS & / THORSEN "The Day wie Said Goodbye" / MARK SPIRO "Between The Raindrops" / BLUES PILLS "Wish I'd Known" / RAMOS "Forefather" / HELL IN THE CLUB "Lullaby For An Angel" / PERFECT PLAN "Fighting To Win" / AMRANTHE "Crystalline" / PRIDE OF LIONS "Unfinished Heart" / SCARLET "Love Heroin" / THE DIRTY KNOBS "Irish Girl" / NEAL MORSE "Hearts Full Of Holes"
---
573. Sendung am 16.12.20 (Wdh. 20.12.20 und 21.12.20) Moderation: Klaus Kipfmüller und Sidekick M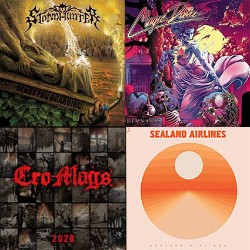 Produktvorstellungen:
SEALAND AIRLINES "Sealand Arlines" VÖ: 27.11.20 / MAGIC DANDE "Remans" VÖ: 04.12.20
CRO-MAGS "2020" VÖ: 11.12.20 / STORMHUNTER "Ready For Boarding" (EP) VÖ: 18.12.20
Playlist:
SHIRLEY HOLMES "Der alte Krieg" / SCHRENG SCHRENG & LA LA "Freundin" / VENTRELLES "County Lines" / SEALAND AIRLINES "Garrison" --- "Sailing Girl" / YOUTH FOUNTAIN "Rose Coloured Glass" / GHOSTS Of SUNSET "Another Rock N' Roll" / SIDEWALK SURFERS "New World" / THERION "Die Wellen Der Zeit" / MAGIC DANDE "Oh No" --- "Cut Me Deep" / BUCKETS N JOINTS "Blind" / RIPE & RUIN "We Break. We Fall." / CAPTIVES "Glassheart" / MSG "After The Rain" / NORMANDIE "Holy Water" / KLEE PROJECT "Back On In Love Again" / SMITH - KOTZEN / "Taking My Chances" / STORMHUNTER "Crown Of Creation" --- "Two Beers (Or Not Two Beers)" / PROMISE AND THE MONSTER "Beating Heart" / MISTER MISERY "Ballad Of The Headless Horseman" / WRAPED "Raised By Goats" / CRO-MAGS "2020" --- "Life On Earth" / CELEB CAR CRASH "Red Dawn Rising" / MAX VON MILAND "Des Oanzige
---
572. Sendung am 09.12.20 (Wdh. 13.12.20 und 14.12.20) Moderation: Klaus Kipfmüller und Sidekick M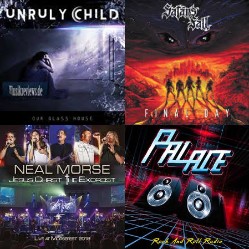 Produktvorstellungen:
FILISTINE "Lofe" VÖ: 27.11.20 / NEAL MORSE "Jesus Christ The Exorcist (Live At Morsefest 2018)" VÖ: 04.12.20 / PALACE "Rock And Roll Radio" VÖ: 04.12.20 / UNRULY CHILD "Our Glass House" VÖ: 04.12.20 / SATAN'S FALL "Final Day" VÖ: 11.12.20 / INCANTATEM "Katharsis" VÖ: 15.12.20
Playlist:
DEINE COUSINE "Morgen, Kinder, wird's was geben" / CALLOW YOUTH "Over Your Head" / FILISTINE "Texas" --- "Bad Name" / DEAD DIRTY DINOSAURS "Bad Timing" / NEAL MORSE "There Is A Highway" --- "Love Has Called My Name" / MAJESTICA "The Joy of Christmas" / INCANTATEM "Hof der Wunder" fest. Eric Fisch --- "Diamant" / RICKY WARWICK "You Don't Love Me" / LÜT "Ingenting Å Angre På" / WHITESNAKE "Heart Of Stone" / PALACE "Eleonoira" --- "Hot Steel" / EGO KILL TALENT "Deliverance" / FIVE FINGER DEATH PUNCH "Living The Dream" / SATAN'S FALL "Restribution" --- "The Flamekeeper" / ONE MORNING LEFT "Neon Highway" / UNRULY CHILD "Talked Yout Out Of Loving Me" --- "Say What You Want" / OUR MIRAGE "Remedy" / INTERSTATE COWBOY "Christmas Cafe"
---
571. Sendung am 02.12.20 (Wdh. 06.12.20 und 07.12.20) Moderation: Klaus Kipfmüller und Sidekick M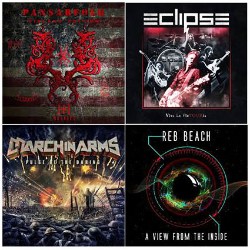 Am Telefon: BEAT PRESSER, Fotograf, CH-Basel
Produktvorstellungen:
ANGELICA "All I Am" VÖ: 06.11.20 / REB BEACH "A View From The Inside" VÖ: 06.11.20
HULKOFF "Ransarfolk" VÖ: 06.11.20 / ECLIPSE "Viva La Victoura" VÖ: 06.11.20
MERRYWEATHER STARK "Rock Solid" VÖ: 27.11.20
MARCH IN ARMS "Pulse Of The Daring" VÖ: 04.12.20
Playlist:

308 GHOST TRAIN "Santa Bought A Yacht" / SYDNEY SPRAGUE "Staircase Failure" / MERRYWEATHER STARK "Mean Streets" / REB BEACH "Infinito" --- "The Way Home" / EPICA "Freedom The Wolves Within" / WILDSTREET "Still Love You" / MARCH IN ARMS "Nisei" --- "Pulse Of The Daring" / SKARLET RIOT "Gravity" / HULKOFF "Hamingja" --- "Ensamvargen" / ANGSTKRÍK "Lucifer Kalder" / ECLIPSE "Viva La Victouria" --- "Black Rain" / ROYAL REPUBLIC "Magic" / ANGELICA "Beat Them All" --- "I'm Sorry"
---
570. Sendung am 25.11.20 (Wdh. 29.11.20 und 30.11.20) Moderation: Klaus Kipfmüller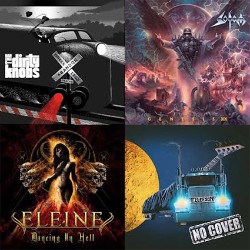 Produktvorstellungen:
A LOSS FOR WORDS "Motown Classics" VÖ: 18.11.20 / ELLEFSON "No Cover" VÖ: 20.11.20
THE DIRTY KONBS "Wreckless Abandon" VÖ: 20.11.20 / IMMINENCE "Turn The Light On" VÖ: 27.11.20
SODOM "Genesis XIX" VÖ: 27.11.20 / ELEINE "Dancing In Hell" VÖ: 27.11.20
Playlist:
MOON SHOT "Big Bang" / THE DIRTY KONBS "Pistol Packin' Mama" --- "Fuck That Guy" / DIRTY LACES "These Days" / A LOSS FOR WORDS "Do You Love Me" --- "You Can't Hurry Love" --- "I Just Called To Say I Love You" / KORPIKLAANI "Mylly" / THE RUMJACKS "Sainted Millions" / INGLORIOUS "She Won't Let Yout Go" / WITHIN TEMPTATION "The Purge" / IMMINENCE "Scars" --- "Don't Tell A Soul" / MAMMOTH WVH "Distance" / DORO "Love Me In Black" / THANATEROS "The Lost King" / ELEINE "Ava Of Death" --- "As I Breathe" / MAJESTICA "Ghost Of Marley" / ELLEFSON "Love Me Like A Reptile (Motorhead) ft. Doro Pesch, Greg Handevidt, Chuck Behler" --- "Riff Raff (AC/DC) ft. Jason McMaster (Lead Vocals), Dave Lombardo, Bumblefoot" / MSG "Drille To Kill" / SODOM "Occult Perpetrator" / LOST RELICS "Unrealistic Couse" / POP EVIL "Breathe Again" / MINEFELD "Home"
---
569. Sendung am 18.11.20 (Wdh. 22.11.20 und 23.11.20) Moderation: Klaus Kipfmüller und Sidekick M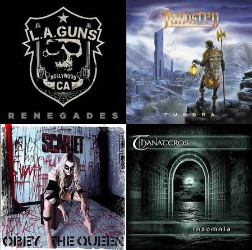 Produktvorstellungen:
ETERNAL IDOL "Renaissance" VÖ: 06.11.20 / JEFF SCOTT SOTO "Wide Awake (In My Dreamland)" VÖ: 06.11.20 / L.A. GUNS "Renegades" VÖ: 13.11.20 / THANATEROS "Insomnia" VÖ: 13.11.20 / SCARLET "Obey The Queen" VÖ: 13.11.20 / TUNGSTEN "Tundra" VÖ: 20.11.20 / ETERNAL CHAMPION "Ravening Iron" VÖ: 18.11.20
Playlist:
PEAKS! "Blackout" / SYDNEY SPRAGUE "Steve" / THERION "Leviathan" / THANATEROS "Frome The Pain" --- "When Worlds Collide" / TUCKER LANE "Lover Or Hatred" / ETERNAL IDOL "Dark Eclipse" --- "Not The Same" / HOT LAUNDRY "Shake" / PARA LIA "My Muse" / JEFF SCOTT SOTO "Someone To Love" --- "I'll Be Waiting (live)" --- "Wide Awake (In My Dreamland)" / TUNGSTEN "Lock And Load" --- "Tundra" / SICKWALT "Demand The Stage" / ETERNAL CHAMPION "A Face In The Glare" --- "Skullseeker" / PHIL CAMPBELL AND THE BARSTARD SONS "Born To Roam" / L.A. GUNS "Why Ask Why" --- "Lost Boys" / THE BLOODSHOTS "No Way Out" / SCARLET "Obey The Queen" --- "Devil Twins" / MACHINE HEAD "My Hands Are Empty"
---
568. Sendung am 11.11.20 (Wdh. 15.11.20 und 16.11.20) Moderation: Klaus Kipfmüller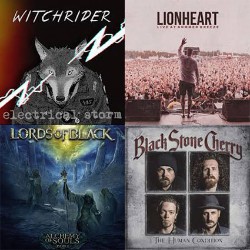 Produktvorstellungen:
BLACK STONE CHERRY "The Human Condition" VÖ: 30.10.20 / LIONHEART "Live At Summer Breeze" VÖ: 06.11.20 / ORIANTHI "O" VÖ: 06.11.20 / LORDS OF BLACK "Alchemy Of Souls – Part 1" VÖ: 06.11.20 / TUATHA DE DANANN "The Tribes Of Witching Souls" VÖ: 13.11.20 / WITCHRIDER "Electrical Storm" VÖ: 13.11.20
Playlist:
JACOB DINESEN "Now I Know" / TANYC "Smile" / FROM ASHES TO NEW feat. Anders Fridén of IN FLAMES "Scars That I'm Hiding" / TUATHA DE DANANN "The Tribes Of Witching Souls" --- "Turn" / JACK SLAMER "Sun Soul Healing" / BLACK STONE CHERRY "When Angels Learn To Fly" --- "The Chain" / ORIANTHI "Contagious" --- "Streams Of Consciousness" / ELLEFSON "Riff Raff" / LeRoi XIII "Stand Up And Shout" / ANTI FLAG "A Dying Plea Vol. 1" (feat. DE'WAYNE, MARCIA RICHARDS; JÁLISE DELLA GARY; TOM MORELLO) / MISTER MISERY "The Blood Waltz (Orchestral Version)" / MASON HILL "Against The Wall" / LORDS OF BLACK "Tides Of Blood" --- "Dying To Live Again" / ACCEPT "Too Mean To Die" / WITCHRIDER "Let Go" --- "It's Crooked" / CELEB CAR CRASH "Diconnected" / LIONHEART "Vultures" --- "Still Bitter Still Cold" / HJELVIK "Glory Of Hel" / KILLER BE KILLED "Inner Calm From Outer Storms"
---
567. Sendung am 04.11.20 (Wdh. 08.11.20 und 09.11.20) Moderation: Klaus Kipfmüller und Sidekick M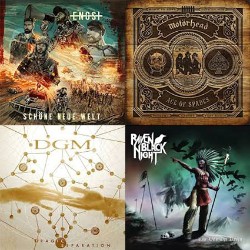 Produktvorstellungen:
DGM "Tragic Separation" VÖ: 09.10.20 / ENGST "Schöne Neue Welt" VÖ: 30.10.20
HAPPY "Imposter Syndrome" VÖ: 30.10.20 / HAUNT "Flashback" VÖ: 30.11.20
MOTÖRHEAD "Ace of Spades" (40th Anniversary Edtitions Deluxed Box Set) VÖ: 30.10.20
RAVEN BLACK NIGHT "Run With The Raven" VÖ: 30.10.20
Playlist:
AViVA "Queen Of The Freak" / STRING BONE ft. NATHAN McKAY "Two Stars Colide" / HAPPY "Liarliar" --- "Background Noise" / ENGST "Mein Problem" --- "Schöne Neue Welt" / BLITZ UNION "Welcome Crazy World" / MOTÖRHEAD "Live To Win" --- "The Chas Is Better Than Te Catch" --- "No Class" / DGM "Surrender" --- "Silence" / CATS IN SPACE "I Feel Out Of Love With Rock 'n' Roll" / DEATH DEALER "Running With The Wolves" / HAUNT "Flashback" --- "Electrified" / WEDNESDAY 13 "Devil Inside" / ROB ZOMBIE "The Triumph Of King Freak (A Crypt Of Reservation And Superstition)" / THEM "The Tumultuous Voyage To Hemmersmoor" / EVILDEAD "Without A Cause" / RAVEN BLACK NIGHT "Holy Monastery" / THE AGGROS "Chaos Magic" / RICH KRUEGER "True True Love"
---
566. Sendung am 28.10.20 (Wdh. 01.11.20 und 02.11.20) Moderation: Klaus Kipfmüller und Sidekick M
Am Telefon: Michael Wachelhofer von CORNERSTONE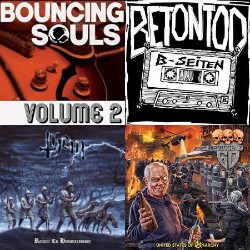 Produktvorstellungen:
THE BOUNCING SOULS "Volume 2" VÖ: 23.10.20 / OLD KERRY MCKEE "Mono Secular Sounds" VÖ: 23.10.20 / EVILDEAD "United States Of Anarchy" VÖ: 30.10.20 / THEM "Return To Hemmersmoor" VÖ: 30.10.20 / BETONTOD "B-Seiten" VÖ: 30.10.20 / A BROKEN SILENCE "Unplugged" VÖ: 30.10.20
Playlist:
FOGOTTEN DOOR "Puerto Penasco" / A BROKEN SILENCE "Hope" --- "Are You Not Entertained" / THE BOUNCING SOULS "Simple Man" --- "World On Fire" / CORNERSTONE "Northern Lights" --- "True Confessions" / SHIRLEY HOLMES "Auszeit" / BETONTOD "Las Vegas" --- "Für immer das Problem" / SHAKIN' STEVENS "Wild At Heart" / PALE BLUE MOON "Ist Not Real" / HOLDING ABSENCE "Beyond Belief" / WAYWARD SONS "Fade Away" / KATATONIA "Behind The Blood" / THEM "Free" --- "The Thin Veil" / L.A. GUNS "Crawl" / EVILDEAD "The Descending" --- "Greenhouse" / OLD KERRY MCKEE "Huming On The Porch" --- "Cattle And Wolves" / MAJESTICA "Ghost Of Christmas Past" / JACK SLAMER "Lost
---
565. Sendung am 21.10.20 (Wdh. 25.10.20 und 26.10.20) Moderation: Klaus Kipfmüller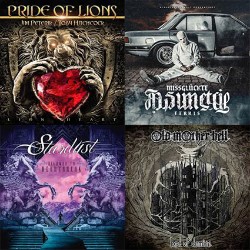 Produktvorstellungen:
STARDUST "Highway To Heartbreak" VÖ: 09.10.20 / OLD MOTHER HELL "Lord Of Demis" VÖ: 23.10.20
FERRIS MC "Missglückte Asimetrie" VÖ: 23.10.20 / PRIDE OF LIONS "Lion Heart" VÖ: 09.10.20
Playlist:
WOLVER "101" / CASH EVERY DENOMINATION "Real Talk" / ShanEye "Sith Lord Pimp" / SAINT CHAOS "Walk" feat. SAM TINNEZ / SEAWAY "Mrs. David" / AUSTIN LUCAS "Drive" / FERRIS MC "Bullenwagen" feat. SHOCKY, SWISS & die Andern --- "13. Stock" / GILBY CLARKE "Tightwad" / STARDUST "Bullet To My Heart" --- "2nd Hand Love" / LUNATIC SOUL "Navvie" / RICK WARWICK "Fighting Heart" / PRIDE OF LIONS "Unfinished Heart" --- "Lion Heart" / NOISS "Stoner 034" --- "Punch In My Face" / SABATON "The Future Of Warfare" / OLD MOTHER HELL "Avenging Angel" --- "Estranged" / FIVE FINGER DEATH PUNCH "Living The Dream" / RAGING SPEEDHORN "Hard To Kill" / ANNISOKAY "Like A Parasite" --- "Bonfire Of The Millenials" / MASSIVE WAGONS "House Of Noise" / I WAND POETRY "For The Night"
---
564. Sendung am 14.10.20 (Wdh. 18.10.20 und 19.10.20) Moderation: Klaus Kipfmüller und Sidekick M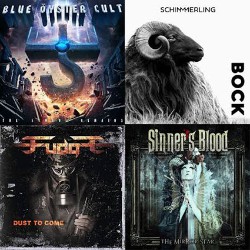 Produktvorstellungen:
BLUE ÖYSTER CULT "The Symbol Remains" VÖ: 09.10.20 / SINNERS'S BLOOD "The Mirror Star" VÖ: 09.10.20 / =fudge= "Dust To Come" VÖ: 16.10.20
Playlist:
PETTER CARLSEN "Good News" / LAURAN HIBBERD "Boy Bye" / SCHIMMERLING "Frechmann" --- "Jäger" / CRUACHAN "The Hawthorn" / REACH "Motherland" --- "Young Again" / SNOW WHITE BLOOD "Shared Hearts" / PHIL CAMPBELL AND THE BASTARD SONS "We'e The Bastards" / THE DIRTY KNOBS "Wreckles Abandon" --- "Lockdown" / KILLER BE KILLED "Dream Gone Bad" / CROWN OF GLORY "Surrender" / SINNERS'S BLOOD "Phoenix Rise" --- "Remember Me" / ROADWOLF "Wheels Of Fire"
DEATH DEALER "Sorcerer Supreme" / =fudge= "Death To Man" --- "Dust To Come" ---"Into The Whispers" / BLUE ÖYSTER CULT "The Machine" --- "Stand And Fight" / 156/SILENCE "Vexation" / ELLEFSON "Auf Wiedersehen" / STYPER "Do Unto Others" / SEAHAVEN "Moon"
---
563. Sendung am 07.10.20 (Wdh. 11.10.20 und 12.10.20) Moderation: Klaus Kipfmüller und Sidekick M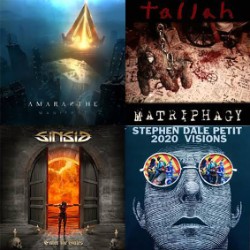 Produktvorstellungen:
SINSID "Enter The Gates" VÖ: 18.09.20 / RUMORS "Neither Innocent No Wavering" VÖ: 25.09.20
TALLAH "Matriphagy" VÖ: 02.10.20 / AMARANTHE "Manifest" VÖ: 02.10.20
ELDER BROHTER "In Won't Fade On You" VÖ: 02.10.20 / STEPHEN DALE PETIT "2020 Visions" VÖ: 09.10.20
Playlist:
HAPPY "Backround Noise" / ELDER BROHTER "Hallowieen" --- "If You Love Me (Like You Say" / MATT MEASON feat. LANA DEL REY "Halluciongics" / SEAWAY "Still Blue" / THE WAKE WOODS "Pinball" / RUMORS "Grinder" --- "Meat" / STEPHEN DALE PETIT "Soul Of A Man" --- "Long Tall Shorty" / CORY MARKS "Blame It On The Double" / ELEINE "As I Breathe" --- "Ava Of Death" / LÜT "Viepå" / AMARANTHE "Crystalline" --- "Strong" feat. NOORA LOUHIMO --- "Make It Better" / ACCEPT "The Untertaker" / SINSID "Enter The Gates" --- "Freedom Of Sea" / ORIANTHI "Impulsive" / TALLAH "Kungan" --- "Red Light" / LARKIN POE "Tears Of Blue To Gold" / THE PRETTY THINGS "Devils Had A Hold" --- "Build A Wall"